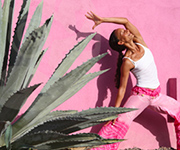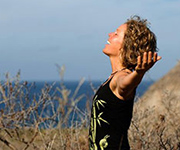 New Moon Open Heart Yoga Retreat
Baja, Mexico
w/ Chia Rafelson & Milagro Retreats
March 10 – 17, 2018
Join Milagro Retreats & Chia Rafelson for our 8th annual yoga retreat in Mexico at Prana del Mar, where the tranquil beauty of the desert meets the Pacific Ocean at the southern tip of the Baja Peninsula under the New Moon.
With the ocean singing, the sun caressing us and the wide open sky calling us, we will explore:
– Power of Asana ~ yoga postures
– Pranayama ~ breath & life force
– Meditation ~ quiet alertness
– Community, nourishing food, and deep relaxation
Each day will include two yoga practices, with plenty of time to explore the splendor around us and inquire into the radiance within.
This yoga retreat in Mexico is for everyone ~ open to all levels!
Time to relax, read a book, get a massage, take a nap, watch the sunrise and sunset and do yoga!
This retreat includes:
7-nights accommodation at Prana del Mar
Three fresh, healthful feasts per day + snacks
Two yoga classes per day incorporating asana, meditation, and pranayama
Interactive Living Foods Class
Eco-Friendly Goodie Bags
Airport transfers on March 10th and 17th
Not included in the cost of the trip:
Airfare
Optional massage or spa treatments
Alcoholic beverages or personal expenses
Any meals off-site (excursions or trips to local towns)
Surfing, horseback riding, whale watching, and other optional excursions
Travel insurance (highly recommended)
Each day will include two yoga practices:
Morning Practice ~ Solar/Yang Energy 
Surya Namaskar (Sun Salutation). This energizing and grounding practice cultivates Yang energy of the sun to warm up and awaken the body, Encouraging you to attend to that which is pulsing softly within you.
Evening practice ~ Lunar/Yin Energy 
Chandra Namaskar (Moon Salutations). This receptive, slower moving practice, works the deep tissues, energy body and mind/body. A series of asanas ~ postures done in honor of the moon and its special Yin energies.
Chia Seed Rafelson
Chia lives in Portland Oregon, where she has been guiding people on their yoga journey since 2006. She facilitates classes at Root Whole Body, and private 1-on-1 in her home studio.
Chia's teaching style is a harmonious blend of Vinyasa Flow and Hatha yoga, with a strong emphasis on the breath and self-healing. She encourages students to smile, breathe, move slowly, listen to their bodies, and the wisdom of their own heart, encouraging students to value their unique process. Chia is soulful, joyous and clearly in her element when she is teaching. Her compassionate, loving, helpful and patient guidance assists students at every level of practice. Her hands-on approach is nurturing, intuitive, and supportive.

As one who battled drug addiction for many years, Chia has learned from her own experience that yoga is medicine. The practice of yoga has changed her life. Chia is grateful to her many teachers. She is humbled by the many wonderful and challenging experiences that have shaped her life.
Shani Cranston
As the Founder of Milagro Living and Pioneer of hOMe Grown Living Foods, Shani thrives as the Momma Bear on Milagro Retreats, holding space and providing Nourishment. Her passion for healthy living is contagious and she enjoys sharing recipes, gardening tips, and insights towards an abundant life!
When Shani is not in the Milagro/hOMe Grown kitchen or in the Garden planting seeds for future harvests, she can be found enjoying the simple life, surfing and frolicking on the coast ~ always in deep reverence for this miraculous life!
Pricing
Double-occupancy: CAD$2,460 per person (currently about US$1,830)
Single-occupancy: CAD$3,250 per person (currently about US$2,420)
Pricing is quoted in Canadian Dollars. Would you like to convert to another currency?
For more information on attending this special yoga retreat in Mexico, please see the Milagro Retreats website where you can also reserve your space for this magical retreat!