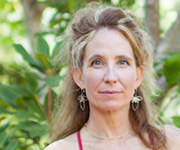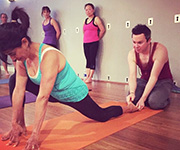 Surya Bheda Solstice Retreat
Yoga Retreat in Los Cabos, Mexico
w/ Tina & Wes
June 18 – 24, 2017
Due to the overwhelming success of last year's event, Tina and Wes are returning again to lead their second annual Surya Bheda Summer Solstice Yoga Retreat. Unplug for six breeze-swept nights and five sun-drenched days at Prana del Mar during the longest days of the year. This solstice retreat is crafted to strengthen your "container" and help you learn how life habits either build or sap your innate creative energy.
Yoga is classically defined as "skill in action," and during this retreat, Tina and Wes focus on teaching you how to incorporate yoga practices and principles in your everyday life. Each day will include joyful vinyasa practices, deeply nurturing yin, pranayama and guided meditation specifically designed to replenish creative energy and showcase yoga as a multi-faceted approach to a satisfying life.
Outside the yoga studio, you'll have opportunities to relax in the saltwater pool, hot tub under the sun or stars, stroll along the beach, explore the area through various excursions, and pamper yourself with spa treatments.
This solstice retreat with Tina and Wes is the perfect opportunity to step back from the pressures and responsibilities of daily life, take time for yourself, and return feeling nurtured, integrated and whole.
Included in this yoga retreat:
Deluxe, luxurious accommodations for 6 nights at beautiful Prana del Mar, recently named one of the 5 best eco-tourism resorts
Three gourmet vegetarian meals each day (with seafood options several times per week). Prana del Mar does its best to accommodate special diets – gluten-free, non-dairy, vegan, etc.
Two yoga practices everyday with guided meditation & pranayama
Full use of all resort amenities – including pool, hot tub, sauna, stone labyrinth, desert gardens, hammocks, and more
All water, teas, and juices with meals
Airport transfers on June 18th and 24th between Prana del Mar and Cabo San Lucas airport (SJD)
All lodging and sale taxes
Not included in the retreat:
Airfare
Alcoholic beverages and personal purchases
Spa treatments
Travel insurance (highly recommended)
Excursions and activities such as snorkeling, kayaking, horseback riding and more
Gratuities
Pricing
Double-occupancy: $1,995 per person
Single-occupancy: $2,395 per person
$500 non-refundable deposit secures your place on this special yoga retreat!
Tina Rath
Authentic, spirited and thoughtful, Tina teaches from a core of passion and joy that recognizes worthwhile journeys are not always smooth and easy. Tina offers a clarified and challenging practice where a slower flow emerges from sophisticated and creative sequencing. The residue of Tina's classes – the cultivation and sustainability of energy reserves, the ability to breathe through difficulties and release physical and energetic blocks – leaves the body fortified, strong and supple, the mind at rest, and the spirit expanding towards its most vibrant expression.
Passionate about education, Tina blends yogic wisdom from her personal practice and studies for the last 16 years with over 700 hours of training from some of the most highly skilled teachers including Maty Ezraty, Tias Little, Mynx Inatsugu and Lakshmi Norwood.
Wes Linch
Wes was first introduced to yoga and Eastern philosophy 10 years ago with a desire to know more about himself. He quickly discovered the benefits of yoga far exceeded open hips.
Having received over 700 hours of training mostly through YogaWorks, he now assists in the YogaWorks teacher training program. He mentored under Mynx Inatsugu and continues his studies with other well respected teachers including Lakshmi Norwood and Mark Horner. Wes received Shaktipat by Shri Anandi Ma and studies the traditional tantric lineage, Kundalini Maha Yoga.
Wes is a dedicated and passionate teacher focusing on bridging the gap between breath, alignment and awareness through movement. He makes the philosophy of the practice relevant by delivering traditional yogic teachings with a contemporary twist. His classes are challenging, full of great humor and heart!
For more information and to register, please visit the retreat website. For additional questions, please fee free to call Tina at (207) 409-0068 or email her at tina@tinarath.com.