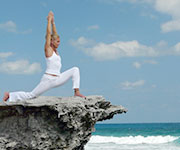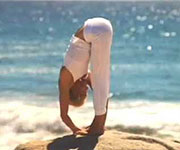 PilateSpa Pilates Retreat
w/ Kathleen Conklin
Baja, Mexico
Feb 10 – 17, 2018
In all that sun and breeze and space, and between meals and walks and sleep, Kathleen leads you to find your breath, your inner strength, your outer ease, a sense of grace.
There is little better opportunity for a retreat to your deeper mind and well-served body.
Each day of the event, join us on the beach for a silent stretch class at 7:30 am. At the bell ring, we walk up to the Movement Room for an hour or more of Pilates and then replenish with brunch. You have the morning to run the beach, walk the labyrinth, build your own labyrinth, get a massage, swim laps in the pool, or take a nap.
In the afternoon, we reverse the order of integration. At 4:30 a mat class on one of several themes, for example, Egg for Power or DaVinci's Man or giving up your champagne butt for a Kodo Drummer butt, and then back to the beach for a sunset stretch. A fabulous healthy dinner awaits.
The essence of your Pilates retreat:
Twice-daily Pilates mat classes
Twice-daily stretch classes
Three delicious meals each day
Stunning eco-friendly accommodations
Ground transport between San Jose del Cabo airport (SJD) and Prana del Mar on beginning and ending dates of retreat, February 10th and 17th
Optional add-ons:
Massage and spa services
Surf lessons
Guided Cliff Hike
Horseback riding
Kayaking & snorkeling excursion
Alcoholic beverages
Private studies with Kathleen
Pricing
$2,300 per person double-occupancy (shared room)
(save $200 if paid in full by October 1, 2017)

$2,800 per person single-occupancy (private room)
(save $300 if paid in full by October 1, 2017)
Place your non-refundable $200 deposit as soon as possible to reserve your spot!
About Kathleen Conklin
Kathleen founded Body Conscious studios in 1998, and created not a gym, not a clinic, but an aesthetic place of light and space and movement in which to learn the intelligence of your body.
Kathleen is author of "Wee Small Stretch Book", photographed at Prana del Mar in 2010, and creator of Breathe. Stretch. Move. – the 90 minute DVD filmed on the coast of Baja to accompany the book. http://pilatespa.com/market/
For more information about this special Pilates retreat and to register, please contact Kathleen directly via email or visit her website.