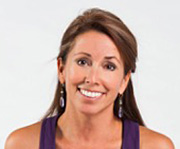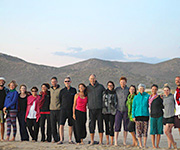 New Year Renewal Yoga Retreat
Yoga & Meditation in Baja, Mexico
w/ Karey Goebel & Friends
Jan 7 – 13, 2018
Reset and Renew!
Set the tone for your 2018 at this beautiful seaside yoga retreat in Cabo, Mexico. Immerse yourself in mindful living. Gather with old and new friends. Dive deeper into your yoga and meditation practices. Enjoy remarkable cuisine, made from fresh, oft-organic produce. Join us at Prana del Mar for a special yoga retreat in Cabo, Mexico that will leave you feeling relaxed, nourished, and renewed.
This beautiful desert yoga retreat is located just a few steps from the crash of the ocean's surf. Prana del Mar has it's own fresh, pure drinking water. All of it's power is solar-generated. And while Internet and phone are available, they are somewhat limited. The resort is truly off-the-grid and offers guests a chance to really unplug and regenerate.
It features luxurious accommodations, two incredible yoga studios, a pool, a meditation labyrinth, access to miles of beach for walking or jogging, desert hiking trails, spa services and more. Optional add-ons are available such as sea kayaking & snorkeling, whale-watching, horseback riding, excursions into local towns, and more!
Each day you will be guided through two daily yoga practices. The morning practice will be an active vinyasa and the afternoon will be more resorative. All levels of yoga practitioners are welcome on this journey designed to restore and transform the body, mind, and soul. The week is inspired by the New Year to help you to transform and rejuvenate with grace and ease.
Getaway and relax | Nourish your body, mind and spirit
Gather with old and new friends | Create lifelong memories
Included in the cost of this yoga retreat:
6 nights deluxe accommodations
3 healthy, delicious meals per day
Two daily yoga classes: Active and Restorative/Nidra practices
Daily meditation
Airport transfers on Jan 7th and Jan 13th
Not included:
Airfare
Any alcoholic beverages, spa treatments, or incidental expenses
Any meals off-site (excursions or trips to local towns)
Local activities: surfing, horseback riding, whale watching, and other optional excursions
Travel insurance (recommended)
Gratuities
Pricing
Double-occupancy: $1,975 per person (shared room)
Single-occupancy: $2,675 per person (private room)
A non-refundable deposit holds your spot.
Karey Goebel
Karey is known for her fun, exhilarating asana flows, set to a backdrop of soul-stirring music and inspired story-telling. Her tales spring from her travels around the world, and her work as an entrepreneur, organic farmer, wisdom seeker, wife and mother. She is a yoga teacher who is dedicated to both the physical and philosophical pathways of yoga. It is her passion to inspire students to help them find true peace and strength in their bodies, and encourage their personal journeys of evolution, discovery and adventure, both on and off the mat. Karey is a certified Power, Hatha and meditation teacher. She completed her 500-hour RYT in 2015. Karey has been featured in the yoga and health magazines: Origin and Mantra Yoga and Health.
Reserve your spot for Mexico now:
Email the studio or call (303) 221-7000 to hold your space!
For more information, please see the ONE Yoga website.