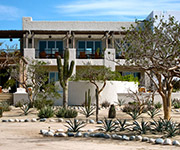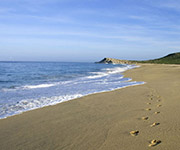 Christmas Holiday Yoga Vacation
A Yoga Retreat in Baja, Mexico
December 18 – 27, 2017

Almost sold out – just one room remaining!
Also, one option for a shared room for a single female

Looking to get away for Christmas week on a holiday yoga vacation? Dreaming of digging your toes in the sand, walking miles of golden beaches at sunset, watching whales spout and breach offshore, and falling asleep to the sounds of the waves?
Come join us in Baja for a relaxing retreat away from the usual hustle-and-bustle of the holiday season. Enjoy deluxe accommodations, delicious meals, daily yoga classes, and warm Mexican hospitality. Explore the area on local adventures or just relax in a hammock and take a siesta.
This family-friendly vacation is open to everyone. If you are looking to get away, to surround yourself in the beauty of the Baja coast, to refresh and rejuvenate in a tranquil and serene location, we hope you will come for a visit.
You can join us for as few as 6-nights or for the full retreat of 9-nights.
To get a better idea of our beautiful retreat center, please check out our photos in the gallery.
Included in your retreat:
Deluxe accommodations
Delicious, healthful meals (mainly vegetarian, with fish and seafood several times throughout the week)
1-2 daily yoga class options each day
1½ hour massage or comparable spa treatment
Round trip shuttle service from airport to retreat center on the first and last day of your retreat
Lodging and sales taxes
What's not included:
Airfare to Los Cabos International (SJD)
Additional spa treatments
Extra activities and excursions
Souvenirs and purchases of a personal nature
Alcoholic beverages
Travel insurance (recommended)
Gratuities
Additional options available:
Surf lessons
Whale-watching excursion
Sea kayaking & snorkeling trip
Horseback riding
Cooking class
Local day trips
Additional massage & spa services
Pricing per person
Double-occupancy (shared room):
6-nights: $1,695
7-nights: $1,895
8-nights: $2,095
9-nights: $2,295
Single-occupancy (private room):
6-nights: $2,095
7-nights: $2,295
8-nights: $2,495
9-nights: $2,695
Cancellation Policy: In the event of cancellation your payment (minus a $500 non-refundable deposit) will be refunded if the cancellation is made on or before November 18, 2017. After November 18th, all payments are non-refundable. We strongly encourage guests to purchase travel insurance.
Children 2 and under are free; kids 3 to 12 are half-price. (Children must be accompanied by a parent or guardian and these children's rates do not include massage or spa treatment.) Please contact us directly if you would like to make payment for any children traveling with you.
Valerie Giles, 500 E-RYT
Valerie's yoga style is Anusara- and Vinyasa-inspired. Her classes aspire to embody the philosophy that yoga's primary purpose is for the pure joy of it!
Clients experience the full spectrum of intensity – from a fiery yang to healing restorative. Valerie strives to provide an experience that balances playfulness with a keen emphasis on alignment; she will guide students to build a strong foundation in order to maintain a safe playground. She is co-owner of Mothership Yoga where she offers classes, private sessions, retreats, and yoga teacher trainings.
Valerie believes that yoga can be pivotal in the healing process, believing in the body's natural ability to heal given the right environment. She was heavily involved in the competitive sport of triathlons and first came to yoga 15 years ago to help heal her injuries when she was yet to learn the broad spectrum of transformative benefits. She invites you to play, laugh, heal, love and transform together while celebrating life.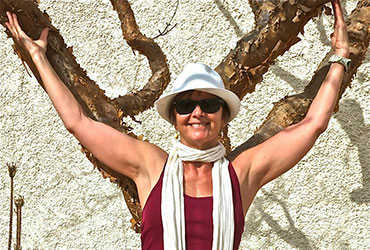 For more information – or to register – please feel free to contact us. We look forward to hosting you on this special holiday yoga vacation!