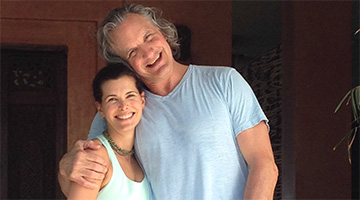 Vinyasa Flow Yoga Retreat
w/ Tom Quinn & Amy Owen
Cabo San Lucas, Mexico
January 20 – 27, 2018
Indulge yourself in a fun-filled week of yoga in an extraordinary setting that is sure to leave you feeling relaxed, recharged and revitalized. Vinyasa flow classes will be a balance of both challenging and restorative with a chance to "break down" poses in order to take your yoga practice to the next level. Meditation and dharma talks will also be offered every morning and free time will be given to go on excursions and explore the beautiful surroundings. Come join us on this special vinyasa flow yoga retreat!
Amy and Tom have led successful retreats together for several years in many different locations. Tom is the founder and co-director of yogaview in Chicago where Amy and Tom both teach and co-lead one of the most respected teacher training programs in the area. They both approach Vinyasa flow yoga with smart alignment, skillful sequencing, deep breath awareness and a sense of light-heartedness.
Tom's passion for yogic philosophy makes his dharma talks and meditation an opportunity for grounding and centering and Amy's love of music and arm balances make her morning flow classes uplifting and fun-filled. Together they have more than 45 years yoga practice and 25 years of teaching experience.
This vinyasa flow yoga retreat includes:
Luxurious accommodations for 7-nights at this luxurious, eco-friendly resort featuring ocean, mountain, and garden views
Three healthy, fresh meals each day – with seafood options several times per week and alternatives for those with dietary restrictions
Daily yoga classes and meditation
Full use of all resort amenities – including the salt water swimming pool, hot tub, sauna, meditation labyrinth, desert gardens, hammocks, and more
Free time with options to go horseback riding, hiking, surfing, lounging at the pool, soaking in the hot tub, whale watching, watching sunsets, and star gazing
All water, teas, and juices with meals
Airport transfers on January 20th and January 27th
All sales and hotel taxes
Not included in the retreat:
Airfare
Spa treatments
Optional excursions and activities such as whale watching, Kayaking & snorkeling, horseback riding and more
Alcoholic beverages and personal purchases
Airport transfers on alternate dates
Travel insurance (highly recommended)
Gratuities
Pricing
$2,145 per person for double-occupancy (shared room)
$2,985 per person for single-occupancy (private room)
A non-refundable deposit of $500 will save your space on this special yoga retreat. Final payment due December 15, 2017.
Cancellation Policy: In the event of cancellation your payment (minus the $500 non-refundable deposit) will be refunded if the cancellation is made on or before December 15, 2017. After December 15 all payments are non-refundable. We strongly encourage guests to purchase travel insurance.
Tom Quinn
As co-director of yogaview, Tom aspires to continually re-create an open space for the practice and study of Hatha Yoga. The primary focus of this endeavor is to maintain a fundamentalist free environment for students and teachers to explore the process of Self Realization through yoga asana, pranayama, philosophy and meditation. The heart of this vision centers around meditation. Since 1991 Tom has been involved in the practice, study and teaching of various forms of Hatha Yoga. He is indebted to all the individuals that have passed on these teachings including Tim Miller, Richard Freeman, John Friend, Dr. Shankaranarayana Jois, Sri K. Pattabhi Jois, and Sharath Rangaswamy.
Amy Owen
Amy signed up for a meditation retreat in 1986 after learning that the Beatles had been touting its benefits a generation earlier. In 1994 she found herself on a meditation retreat in Nepal, where she discovered and fell for yoga. Since then, Amy has studied a variety of yoga forms around the world including Ashtanga, Iyengar and Vinyasa flow. Her individual teaching style combines these with a focus on breath awareness and alignment.
Amy is also trained in prenatal yoga. She teaches an active but modified style of vinyasa flow that is accessible and appropriate for all levels and stages of pregnancy. Amy believes that prenatal yoga cannot only create spaciousness and relaxation but also strength and stamina as preparation for the birthing process. She contributes her in depth knowledge to both her training and her experience: she has practiced the discipline through three pregnancies.
She is certified in Prenatal training from Gurmukh in Los Angeles and Ashtanga teacher training from Richard Freeman in Colorado. Her biggest influences, however, continue to be Geri Bleier, Quinn Kearney, Claire Mark, and Tom Quinn at Yogaview in Chicago, where she practices, teaches and has taken both of Yogaview's level I and II teacher training.
For more info, questions and registration, please feel free to email Tom or email Amy about this special vinyasa flow yoga retreat.