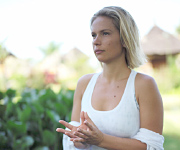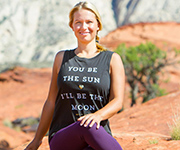 Spring Yoga Retreat in Baja
Los Cabos, Mexico
w/ Kerry Armstrong
May 12 – 19, 2018
Imagine waking to the sound of ocean waves crashing in beautiful Cabo San Lucas. We will start each morning with meditation as a way to discover how to recover our center at any moment, in any situation. After a delectable breakfast, we will head to the yoga room for a physical yoga experience. You will have the afternoons to rest, enjoy the beach, head to town, or simply lay in the sun and take in the beautiful surroundings. The evenings will be spent discussing different aspects of yoga, and calling in our divine purpose on this planet through yoga study, chanting or dancing. This immersion includes three meals a day, round trip airport transfers and ample amounts of time for you to enjoy yourself.
This immersion is a week-long yoga retreat in pursuit of the in-depth study of all yoga aspects. While this week will be treated as a retreat and all classes will be optional, you will be given the opportunity to immerse yourself in yoga classes, meditation, and self-study. As we come together as a community in this serene environment, we will ask ourselves to put our attention on what matters most to us in our lives. This week is designed to deepen your understanding of yoga as a whole and expand your potential to be more present and centered as a human being. We will be in the profound experience of the following:
Meditation
Physical Yoga Classes
Kirtan Chanting
Mantras and Mudras
Breathing Techniques
Healthy eating habits
Writing and Journaling
Philosophy of Yoga
Communication that will support your relationships
The earth elements and how they pertain to a yoga practice
And much, much more!
"I want to sit in a room of like-minded individuals and share all that I know as a teacher and a practitioner of yoga. I want it to be a conversational experience where we as a group contribute to the knowledge, powerful deliverance and experience of the program."
– Retreat Leader, Kerry Armstrong
Pricing for this yoga retreat includes:
7-nights beautiful oceanfront accommodations
Three fresh, healthful meals per day
Full use of all resort amenities – including pool, hot tub, sauna, stone labyrinth, desert gardens, hammocks, and more
Sales and lodging taxes
Shuttle service to and from the San Jose del Cabo Airport (SJD) on the first and last day of the retreat (May 12th and 19th)
Price does not include:
Airfare to Cabos San Lucas (SJD)
Optional Spa services
Alcohol
Additional activities or excursions
Travel insurance (recommended)
Gratuities
Pricing
Double-occupancy: $2,350 per person
Single-occupancy: $2,950 per person
Cancellation Policy:
A non-refundable deposit is due at the time of booking. The remaining balance due 90 days prior to retreat.
If reservation is cancelled 90 days prior to retreat start date, your deposit can be used towards a future KA yoga retreat within one year of cancellation date.
If cancelled after 90 days, the full tuition minus the nonrefundable deposit can be used towards a future KA yoga retreat within one year of cancellation date.
If cancelled 60 days prior to retreat start date, no refund or credit of any amount will be given.
Kerry Armstrong
Kerry is a 500-hour ERYT Certified Baptiste teacher dedicated to empowering others to reach for their highest potential through the teachings of yoga. Kerry considers herself always a student and always a teacher. She is deeply devoted to yoga, meditation, and self-inquiry. She believes that yoga can create a pathway for more peace, health, and vitality in the world. Kerry leads a strong vinyasa flow class based on the teachings of Baptiste Yoga, weaving in mantras, mudras and kriyas. Kerry believes that as a teacher she is simply there to hold space for her students to experience transformation, wholeness and healing. Kerry is also the co-creator of hitPLAYyoga, which is an online yoga library of streaming audio classes led by a team of powerful yoga instructors. HPY is determined to elevate the planet through the teachings of yoga. Kerry now travels the world leading workshops and retreats as a way to share yoga with each and every person she meets.
For more details and to register, please see the retreat website or email Kerry.