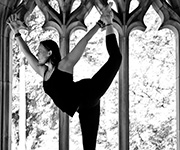 Release ~ Reset ~ Recharge Yoga Retreat
A Luxurious Winter Getaway
w/ Kate Goodyear
Los Cabos, Mexico
February 10 – 17, 2018
This winter take time to release, reset, and recharge yourself at my first solo yoga and meditation retreat! I'm very excited to be leading my second yoga retreat to the beautiful Prana del Mar. This location, facility and staff captured my heart in 2016 and I can't wait to share it with you in 2018!
The first few days of the retreat will focus on releasing and letting go. We will be going deep into the hips and shoulders to let go of tension on the physical, emotional, and spiritual levels. The middle of the week will focus on resetting and creating balance in the body and mind. As we move towards the end of the week you can expect fiery, energizing practices to recharge the batteries and get you ready to re-enter the "real world".
You can expect a variety of offerings including daily vinyasa and meditation sprinkled with restorative yoga and Reiki energy healing.
This yoga retreat includes:
Deluxe accommodations for 7-nights
Three delicious vegetarian meals daily with fish and seafood offered several times per week
Daily yoga and meditation
Special New Moon meditation
All water, teas, and juices with meals
Full use of all retreat center amenities – including pool, hot tub, sauna, stone labyrinth, desert gardens, hammocks, and more
Roundtrip airport transportation on first and last day of retreat (Feb 10th & 17th)
Sales and hospitality taxes
Not included:
Airfare to Los Cabos Airport (SJD)
Spa treatments
Alcoholic beverages and personal purchases
Optional excursions such as surfing, kayaking & snorkeling, horseback riding, trip to town, etc.
Travel insurance (highly recommended)
Gratuities
Kate Goodyear
My mission is to help others feel the way that my teachers helped me feel. I strive to provide my students with a practice that challenges the body, soothes the mind, revitalizes the spirit, and builds connection. It is very important to me that students realize that this is more than just exercise but a spiritual practice.
I have been blessed with being a lululemon ambassador, and having traveled to Whistler to participate in the lululemon Ambassador Summit. I have led several international yoga retreats and am co-founder of Svadhyaya Yoga Teacher Trainings.
I teach a Vinyasa style in the Ashtanga lineage. What does that mean? You will be led through a series of postures that flow one into another with hundreds of years of wisdom and alignment behind each posture or asana. We concentrate on the breath and awakening the light that resides within each of us.
Pricing
$2,250* per person double-occupancy via cash or check
$2,850* per person double-occupancy via cash or check
(*please add 5% for payments via PayPal)
• $500 non-refundable deposit required to hold your space
• Sign up by Sept 1, 2017 and receive a complimentary whale-watching excursion
• 50% of balance due Nov 1, 2017
• remaining balance due Jan 15, 2018
For more information and to register, please visit her website or contact Kate directly:
email: k8yogini@yahoo.com
phone: 484-639-2733